Best Hernia Specialists in Hyderabad
Dr. Parthasarathy is one of the best hernia specialists in Hyderabad. As a renowned hernia surgeon in Hyderabad, Dr. Parthasarathy has performed hundreds of hernia surgeries successfully. We offer advanced laparoscopic Hernia surgery for a variety of hernias, including umbilical hernia, inguinal hernias, incisional hernias, femoral hernias, Hiatal hernias & diaphragmatic hernias.
Our hernia doctors collaborate with other specialists such as plastic surgeons and gastroenterologists, to provide patients with personalized and comprehensive care from the time of diagnosis through the surgery and recovery.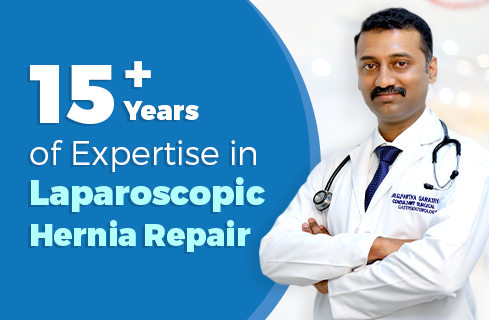 Table Of Content
What is Hernia?
A hernia is a weakness or defect in the wall of the abdomen present at the time of birth or acquired later in the life of the person. This defect or weakness in the abdominal wall often results in the intestine protruding through it. Hernias can grow large over time, as the pressure inside the abdomen pushes on the area of weakness.
What are the Types of Hernias?
Hernias are of many types based on the location of their occurrence, some of the major hernias include
Femoral Hernia
Umbilical Hernia
Inguinal Hernia
Incisional Hernia
Hiatal Hernia
Diaphragmatic Hernia
What happens if a hernia is left untreated?
Hernia won't go away on its own and eventually needs surgery. Hernias can get dangerous when the intestines get strangulated. A strangulated hernia can block the passage of food through the intestine and can also cut off the blood supply & result in gangrene. Strangulated hernias need immediate surgical procedure.
Laparoscopic or Open Surgery for Hernia-which is better?
Surgery for hernias can help prevent complications caused by hernia. We offer advanced laparoscopic surgery for Hernia Repair in Hyderabad  for treating all types of hernias.
Open or Laparoscopic surgery, the end goal of both procedures is to prevent the hernia's recurrence. Though both open and laparoscopic surgeries can help prevent the recurrence of hernia, laparoscopic surgery for hernia is superior in terms of the time of hospital stay, earlier return to work, Less pain, small scars, and fewer chances of infections.
Dr. Parthasarathy is highly trained and experienced in performing Laparoscopic hernia surgeries. He has performed over 3000+ laparoscopic surgeries successfully. If you or your loved one is suffering from Hernia, reach us on +91 73309 90044 for an appointment with Dr. Parthasarathy.
Can hernia be cured without surgery?
Hernia is a defect in the muscle through which the intestines protrude out.It is like a break in the seam of a shirt,a physical damage.Medical treatments do not fix this.One has to repair the defect with stitches and reinforce it with a mesh to prevent the repair from breaking down later.Thus,surgery remains the only effective treatment for fixing hernia.
How soon should you get your hernia treated?
All hernias need treatment at some time or the other.Hernias which do not have complications like severe pain,obstruction or strangulation can be treated on an elective basis.Meaning,one can wait for a few weeks to months and get the treatment at one's convenience ,in terms of getting break from work or vacations.
Patients who have complicated hernias or who have experienced severe pain or vomiting in the past because of the hernia, need treatment as early as possible. This is done to avoid a recurrence of those complications which might warrant an unplanned,emergency hernia surgery.
Should I wait for the hernia to get painful before getting treated?
The success of a hernia repair operation depends on many factors.Patients who get the surgery done on an elective basis have a better chance of long term success.This is because in an emergency surgery ,the chance of wound infection,mesh infection,pain and other complications are more than an elective operation.
Postoperative complications following a hernia operation increase the chance of the hernia coming back again after sometime.
This is why hernia surgeries are best done in a planned ,elective setting whenever possible .It is best not to wait for the hernia to get painful or complicated before seeking treatment.

World class GI care now only a click away!
Experience comprehensive world class GI Care, now in Hyderabad.