About
Dr. Parthasarathy
Chief Surgical Gastroenterologist
M.B.B.S, M.S(JIPMER), FIAGES M.Ch(Surg Gastro)(SGPGIMS)
Fellowship in Hepatobiliary Surgery and Liver Transplantation(New Delhi)
IVIS Fellowship(Seoul, S.Korea)
Dr. Parthasarathy is one of the most renowned surgical gastroenterologists in Hyderabad, India. He consults at KIMS Hospitals as a Sr. consultant Surgical Gastroenterologist & Laparoscopic Surgeon.
He has an illustrious academic and surgical training record of over 15 years from the best premier institutes of the country and abroad. He completed his undergraduate and postgraduate training in surgery from JIPMER and went on to earn his MCh in GI surgery from the prestigious SGPGIMS, Lucknow. He further trained in advanced liver and pancreatic surgery and liver transplantation from CLBS,New Delhi and later at Asan Medical Center ,Seoul .S.Korea.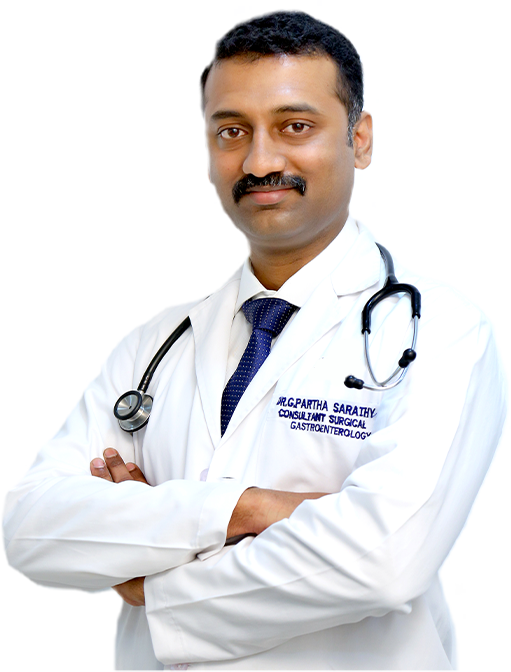 Why Choose Us?
So far Dr Parthasarathy has performed over 3000+ advanced laparoscopic procedures and has been a part of more than 400 liver transplant surgeries. Dr Parthasarathy has great passion for GI surgery and ensures an excellent quality of surgical & post operative care to his patients. He was awarded the gold medal for best research work by the Indian Association of Surgical Gastroenterologists (IASG) in the year 2004. He has many research papers published in National and International journals and has also authored chapters in various textbooks of GI surgery.
Our Specialities
Dr Parthasarathy specialises in treating any and all GI diseases including the diseases of liver, Gallbladder, pancreas and Colorectal conditions. He has special interest in advanced laparoscopic and bariatric procedures. 
Comprehensive Care
We provide comprehensive surgical & Non-surgical solutions for all GI conditions. Our team of surgical gastroenterologists lead by Dr Parthasarathy work in conjunction with other departments to provide optimal surgical outcome to our patients.
Advanced Diagnostic Services
Our state of the art center offers advanced cutting edge diagnostic and surgical modalities to provide best in class treatment options to our patients. We adopt latest technologies in the field of medicine which helps us bring world class care in Gastroenterology to the people of Hyderabad, India.
Our 24/7 Patient Care
Be it trauma or a gastrointestinal emergency our team of trauma and ER specialists are available round the clock to serve you. Our emergency team is equipped with advanced life saving infrastructure to handle all types of emergencies.
Awards & Recognitions
Our unrelenting efforts for 15+ Years towards ensuring seamless gastroenterological care to our patients has brought us many awards and recognitions. Times of India's award for Best Gastroenterologist in Andhra Pradesh & Telangana is a small testament to our dedication and commitment towards ensuring world class care to our patients.

World class GI care now only a click away!
Experience comprehensive world class GI Care, now in Hyderabad.