Femoral Hernia Surgery in Hyderabad
Dr. Parthasarathy is one of the leading hernia surgeons in Hyderabad. Dr. Parthasarathy and the team have performed hundreds of simple & complex femoral hernia surgeries in the last 15 years. We employ advanced laparoscopic & robotic surgeries for a hernia. Our goal is to provide personalised care for hernia patients by counselling and to understand their expectations.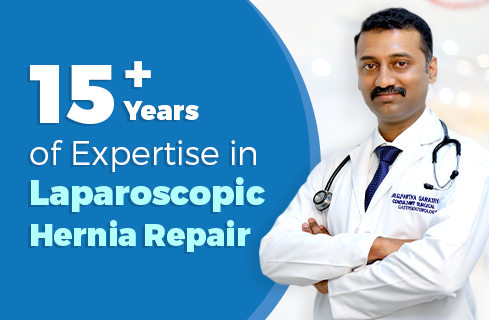 Table Of Content
Why does a patient need Femoral Hernia Surgery?
A femoral hernia is a hernia near the groin or upper thigh. In this usually an intestinal tissue bulges out of a weak spot in the femoral canal. When femoral hernia starts causing discomfort or pain, it has to be operated.
Femoral hernia is an uncommon hernia. Women are more likely to suffer from this condition.
What are the Different Types of Femoral Hernia Surgery?
There are two types of femoral hernia surgeries.
Femoral Hernia Open Surgery:
The surgeon performs this surgery after administering general or local anaesthesia to the patient. He then makes an incision in the groin and separates the hernia from tissues around it. The contents are pushed back into the abdomen and the femoral wall is repaired. The cut is then closed with stitches.
Femoral Hernia Laparoscopic Surgery:
This is performed under local anaesthesia. The surgeon makes multiple small incisions around the hernia. He then inserts a laparoscope which has a camera attached to it at the end, through one of the incisions. He then corrects the hernia and strengthens the femoral wall using special tools inserted through the incisions. The cuts are closed at the end of the surgery using stitches.
Is femoral hernia surgery painful?
What happens if femoral hernia is left untreated?
What is the hospital stay after femoral hernia surgery?
What Is the cost of femoral hernia surgery in Hyderabad?

World class GI care now only a click away!
Experience comprehensive world class GI Care, now in Hyderabad.